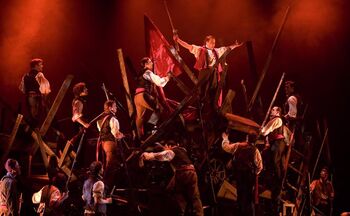 Write the text of your article here!
Notable Locations
Edit
Le Bagne de Toulon
Edit
The Bagne of Toulon was a notorious prison near the southern town of Toulon. The prisoners were nicknamed bagnards in homage to the prison. Jean Valjean spent nineteen years as a punishment for stealing bread for his starving nephew. Originally, his sentence was five years, but was extended to nineteen after his numerous escape attempts. Javert was a prison guard while Jean Valjean was imprisoned in the prison.
Notable Prisoners: Jean Valjean (1796—1815)
Notable Guards: Javert (?—?)
Digne was the home of Charles-François Bienvenu Myriel, a kind bishop that housed Jean Valjean for one night. Jean Valjean repaid Myriel by stealing his silver candlesticks; however, when Jean Valjean was caught, Myriel saved him from prison. Myriel told Jean Valjean to become honest and gave him the silver candlesticks.
Montreuil-sur-Mer
Edit
Montereuil-sur-Mer was the birthplace of Fantine. When she returned to Montreuil-sur-Mer, abandoned by her lover and pregnant with Cosette, Fantine was hired as a textile factory worker. When Cosette was born, Fantine sent her to the Thénardiers in Montfermeil and hid her daughter's existence. Fantine died and was buried in Montreuil-sur-Mer.
Montfermeil
Edit
Montfermeil was the site of the Thénardier's inn, The Sergent at Waterloo. Montfermeil was also the birthplace of Éponine, the Thénardier's only child. Cosette worked there for five years as a servant.
55 Rue Plumet was the house number of which Jean Valjean and Cosette live. Marius was healed there after the revolution.
50-52 Gorbeau House was the apartment building complex in which Marius and the Thénardier family lived.
Le Café Musian was the small café where the Society of the Friends of the Abaissé meet to discuss the political climate of Paris.
The Barricade of 1832 was an obstruction built by the Society of the Friends of the Abaissé on Rue de la Chanvrerie. Éponine Thénardier, Enjolras and the other revolutionaries were all killed on the barricade, with only Marius and Jean Valjean escaping.