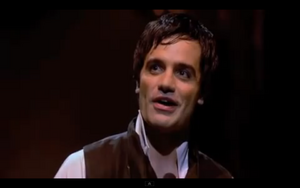 Enjolras is a character in the 1862 novel Les Misérables by Victor Hugo and the 1985 stage adaption of the novel. He is the leader of the Friends of the ABC and friends with Marius Pontmercy and the other revolutionaries. He is a fervent believer in democratic freedom and equality. He is killed at the barricade of the 1832 June Rebellion.
Notable Portrayals
Edit
David Burt in the 1985 London stage adaption
Michael Maguire in the 1995 10th Anniversary Dream Cast Concert
Ramin Karimloo in the 2010 25th Anniversary Concert
Jon Robyns in the 2010 25th Anniversary UK tour
Jeremy Hays in the current 2010 25th Anniversary US tour
Daniel Diges in the Madrid Revival 2010
Background
Edit
Enjolras was the organizer and charismatic leader of the Friends of the Abaissé. A dedicated advocate for equality among the social classes, he was the most devoted to the cause among the Friends. He was determined to overthrow the French monarchy and establish a Republic out of France. He was the instigator of the barricades built in the streets of Paris on June 5. On June 6, the French National Guard executed him.
Very little is known about Enjolras' early life. Enjolras began holding meetings with other students in Le Café Musain after classes had concluded each week to talk about the government. There he met Marius Pontmercy when Courfeyrac brought him to the café, and they became close friends. On June 6, 1832, the French National Guard executed Enjolras.
Featured Songs
Edit
The Second Attack (Gavroche's Death)
The Final Battle